E-Bike Lube 120ml
Regular price
Sale price
$16.99 CAD
Unit price
per
Wholesale
Sold out
Find a dealer
E-bikes can be incredibly demanding on their drivetrains, which is why we created a dedicated chain lubricant just for them. High torque, long rides, and often running at a higher cadence that a traditional mountain bike, we knew we needed something special. The Godfather's Garage E-BIKE lubricant coats the chain to help keep things running smoothly through those power moves, sustained climbs, and "one more lap" moments.
Share
Features

• Our most viscous chain lube meant to penetrate and protect your chain against the demands of both e-bike drive systems and harsh riding environments
• Highest tenacity of any of our chain lubes
• Designed for high torque e-bike systems
• Great protection against the contaminants in all weather conditions
• Made in Canada, tested on Vancouver's North Shore
How to use

• Clean chain with your favourite degreaser.
• Give the lube bottle a good shake. After all, it's just been sitting there.
• Open the cap to your desired flow rate, and apply the lube to the inside of the chain links as you cycle the chain backwards. Make sure you lube all the links of the chain.
• Keep cycling the chain for 10 more seconds, and then allow lube to sit on the stationary chain for 2 minutes.
• Wipe away any excess lube. Now go ride!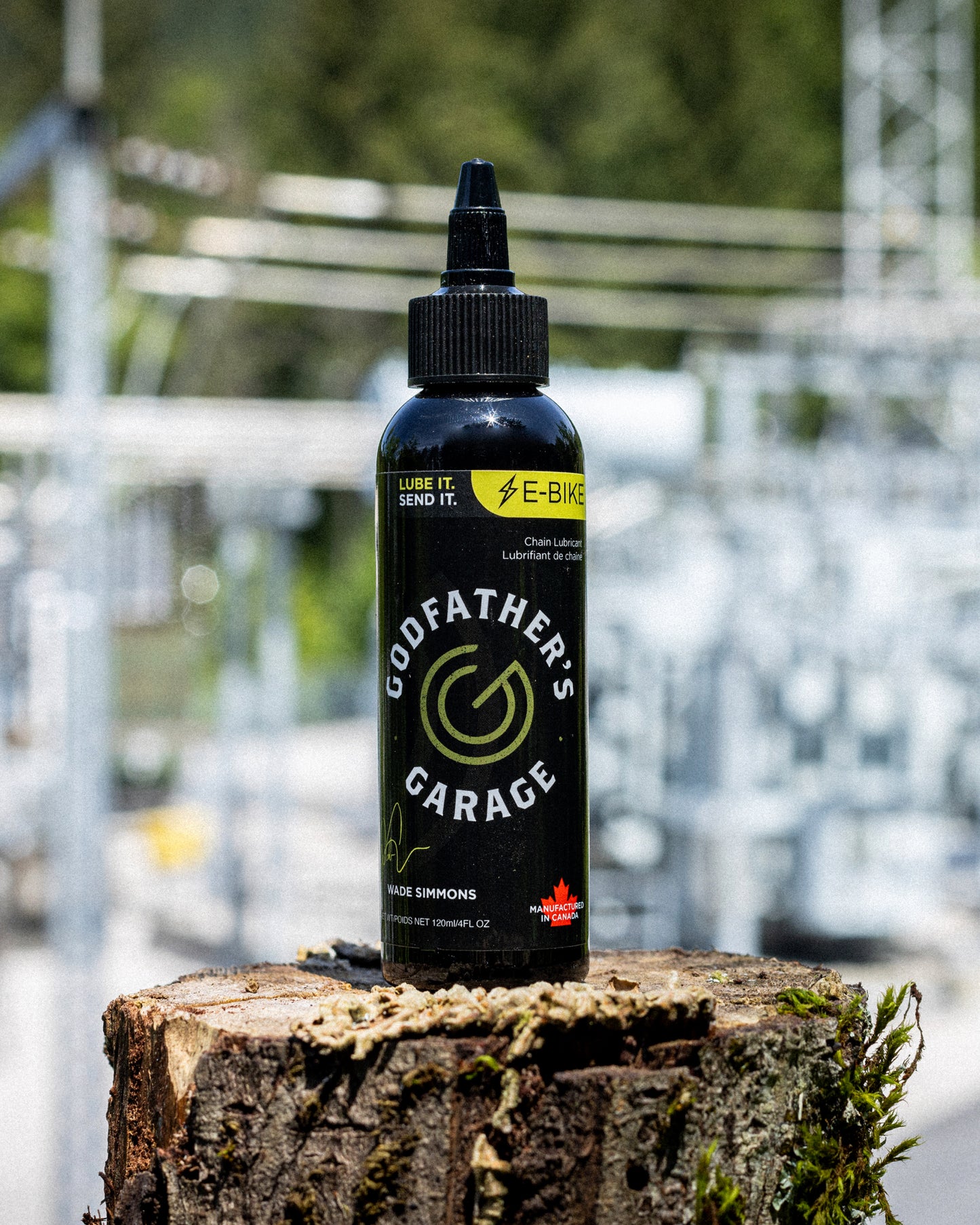 It all started in the garage – even for the Godfather.
Riding and working on bikes for over 30 years teaches you a thing or two, and few people know more about the demands that can be put on a bike then Wade Simmons. Yeah, maybe he's slowing down a little but still shreds hard and has always been 100% passionate about the performance of his bikes.
Long lasting

Lube it. Send it. All day long.

Protect

Protect your chain and keep the grits out of your drivetrain.

Sustainably sourced

Our chain lubricant uses natural base oils, without compromising performance.